Living in Jacksonville Beach and Ponte Vedra Beach, Florida, means enjoying a warm, tropical climate all year round. A beautiful pool area in your backyard is the perfect way to create a private oasis for relaxation and entertainment. Enhancing your pool area with creative pool landscaping can elevate its look and create an inviting environment for your family and friends. This blog post will explore five to seven pool landscaping ideas that can transform your backyard pool area into a stunning outdoor paradise.
Adding Tropical Plant & Flower Beds
Tropical Plantings Embrace the lush, tropical environment of Jacksonville Beach and Ponte Vedra Beach by incorporating vibrant, low-maintenance plants in your pool landscaping.
Consider plants like hibiscus, bird of paradise, and palm trees to create an exotic, tropical feel around your landscape design. These plants provide an excellent color, texture, and shade balance, making your swimming pool look like a luxurious resort.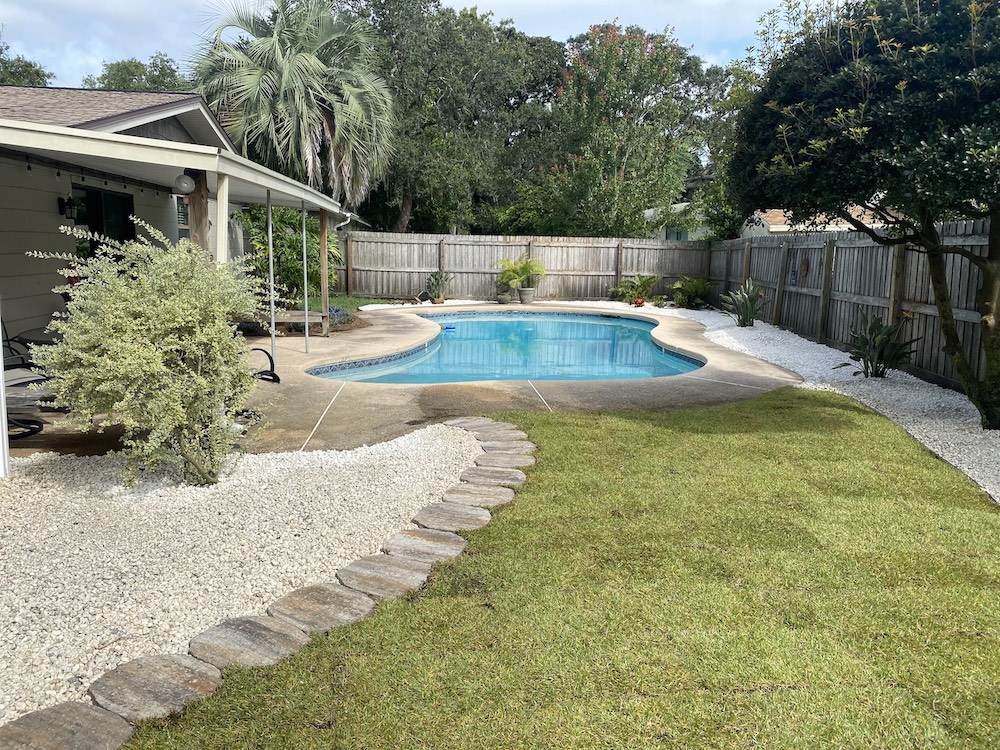 A Pool Deck
Invest in high-quality paving or decking materials to create comfortable and safe walking surrounding your poolside landscaping. Consider using slip-resistant materials like textured concrete, stone, or composite decking to ensure safety that stands up to standing water.
To add visual interest, consider incorporating a mix of materials and patterns around the pool, creating a unique and stylish design that complements your home and pool.
Water Features
Adding water features to your pool landscaping has many benefits and can create a soothing and luxurious atmosphere. Consider incorporating a waterfall, fountain, or even a small stream to create movement and gentle sounds that enhance the overall ambiance. A perfect choice, they also help circulate water and create a cleaner, healthier pool environment.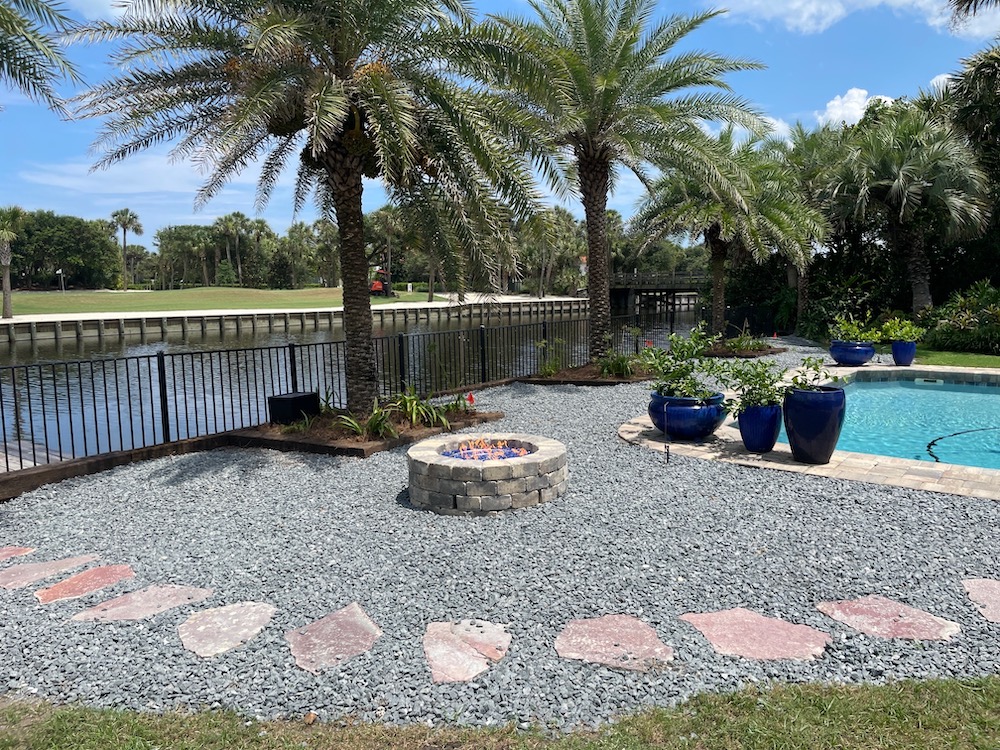 Outdoor Lighting
Opt for energy-efficient LED lights to illuminate your pool and the surrounding landscape. Strategically placed outdoor lighting around your pool area can create a dramatic and inviting atmosphere, especially during the evenings. To create a warm and inviting space, you can choose from various pool light styles, such as uplighting, downlighting, and underwater lighting.
Privacy Landscaping
To create a sense of privacy and seclusion, consider incorporating privacy landscaping around your outdoor area of swimming pools. Acting as "pool fencing," it adds a privacy wall and adds an extra layer of lush greenery to your outdoor space. Utilize hedges, tall grasses, or bamboo to create natural barriers that offer privacy and an attractive visual element.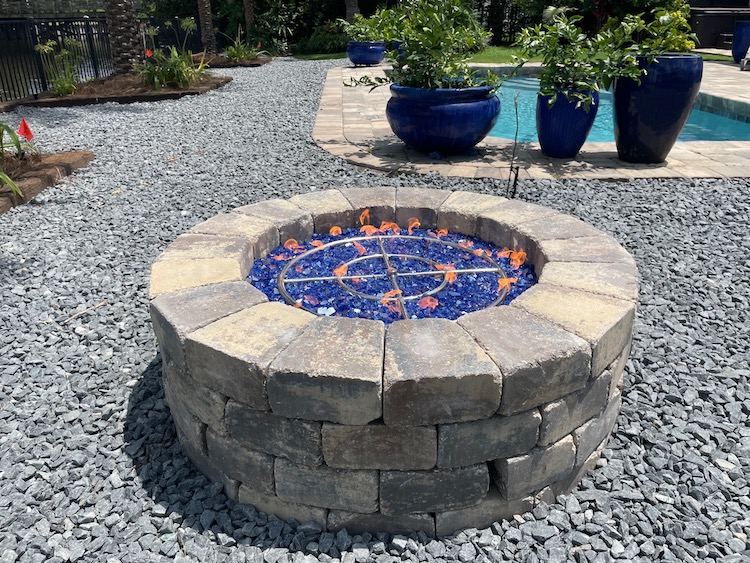 Nightly Visual Appeal | Fire Features
Adding a fire feature, such as a fire pit or an outdoor fireplace, can elevate the ambiance and extend the use of your pool area into the cooler evenings. A fire feature can provide a cozy spot for gathering, relaxation, and entertainment, making your pool area the ultimate destination for outdoor living.
Outdoor Seating and Dining
Create a comfortable and functional outdoor living space by incorporating seating and dining areas into your pool landscaping. Consider adding a pergola, gazebo, or shade sail to provide shelter and shade for your outdoor furniture. This will make your new pool more enjoyable and versatile for entertaining guests and spending time with family.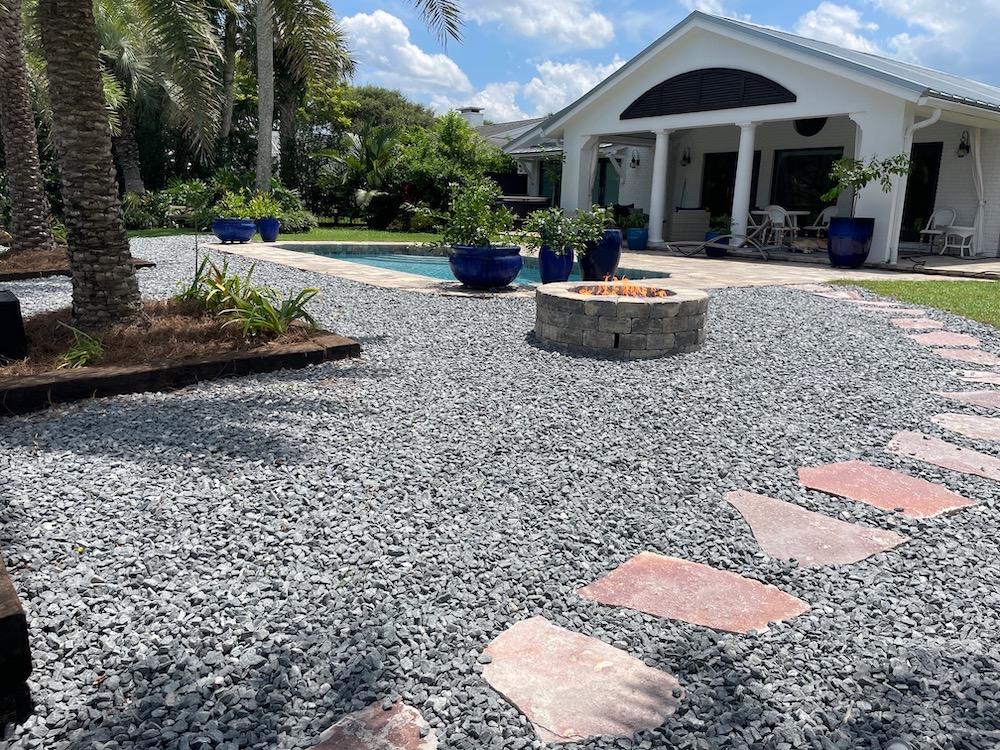 Turn your Idea into a Dream with Coconut Grove Landscaping & Design
Transforming your pool area into an outdoor oasis requires skill, creativity, and a keen eye for design. Coconut Grove Landscaping Design is the best choice for landscaping ideas for your pool in the Jacksonville Beach and Ponte Vedra Beach markets.
With years of experience and a reputation for excellence, our team of professionals is dedicated to bringing your vision to life. From tropical plantings to breathtaking water features, we will work closely with you to create a stunning, personalized outdoor paradise that exceeds your expectations.
Contact Coconut Grove Landscaping Design today to start your journey toward the perfect pool landscape.