Are you dreaming of transforming your entire backyard into an outdoor oasis? Coconut Grove Landscape & Design, Florida's top landscape design installation contractor, can turn that dream into reality. The secret to unlocking your backyard's potential lies in backyard fire pits. 
Here are seven reasons to get a fire pit and why an outdoor fireplace solution can be the next best addition to your home and yard.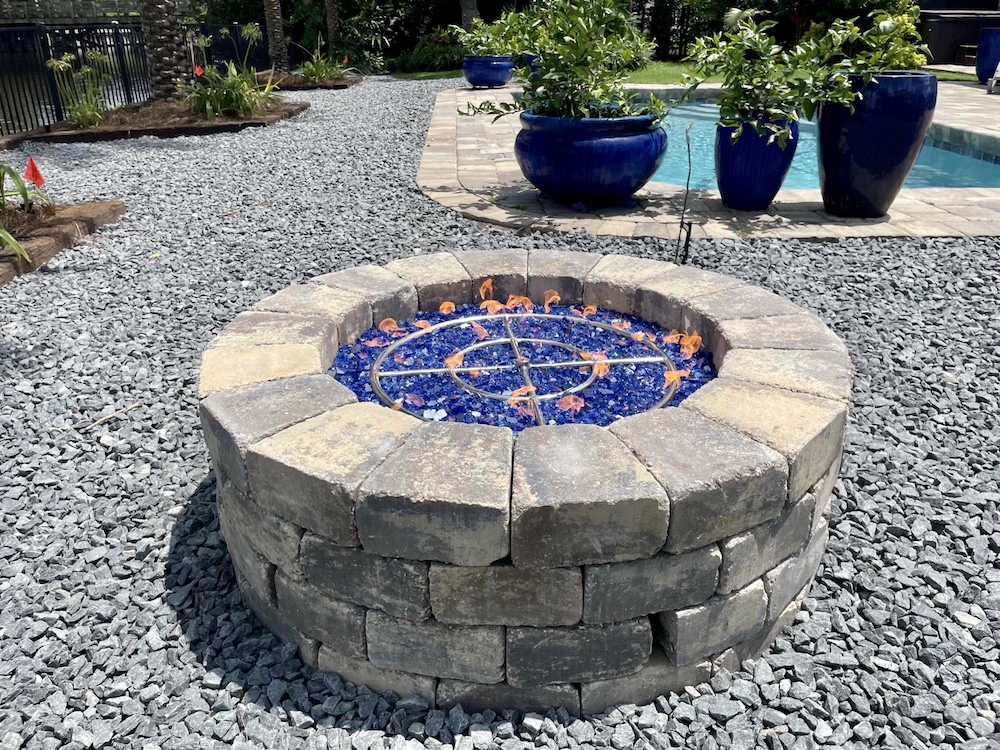 1. Improved Landscaping = Increased Value
Investing in backyard fire pits enhances your yard and outdoor living space and significantly increases your property's value. It's a fact; beautifully designed landscapes and structures featuring elements like a fire pit installation instantly boost your outdoor entertainment area and add curb appeal to your house, yielding a high return on investment. Outdoor spaces with the best fire pit designs often become a major selling point for potential buyers.
2. Better for the Environment
Contrary to popular belief, fire pits can be environmentally friendly. When installed and used correctly, propane and gas fire pits emit less smoke and leave fewer residues than wood fire pits or a traditional campfire. For example, a Pavers fire pit is known for its clean burning characteristics that reduce your carbon footprint, making outdoor gatherings more sustainable. Less eco-friendly wood-burning models are generally installed if you're looking for more heat with the ability to cook food.
3. Great for Romance
There's something incredibly romantic about the relaxing environment a patio fire pit creates. The soft, ambient glow of the flames provides ambiance and a perfect setting for intimate evenings under the stars. Whether it's a quiet night with your partner or a charming dinner date, the romantic ambiance and cozy atmosphere created by backyard fire pits add a spark to your outdoor living space.
4. Versatility
A fire pit is a versatile element that you can enjoy all year. It is a heat source during cooler months, allowing you to extend your outdoor living season. Your fire pit can serve as a great conversation piece or a unique grilling spot in warmer summers.
5. Provide Entertainment
Backyard fire pits are synonymous with entertainment, from roasting marshmallows to sharing stories. Whether hosting a family gathering or a neighborhood get-together, an outdoor fire pit is a great way to entertain and engage your guests.
6. Serve as a Focal Point
A well-designed fire pit can become the centerpiece of your outdoor space. It commands attention, drawing your guests towards it and fostering a cozy, social environment. A fire pit's visual appeal and welcoming comfort transform your backyard into a desirable outdoor gathering place.
7. Adds to the Overall Aesthetic of Patio Design
Finally, a fire pit installation greatly improves your patio's aesthetic appeal. Its design possibilities are endless; it can blend seamlessly with any style, whether you prefer a rustic or a contemporary look.
Why Fire Pits Are a Great Option for Your Florida Backyard
Creating the perfect backyard environment in Florida is an art that we at Coconut Grove Landscape & Design understand well. One feature we frequently recommend to elevate the outdoor experience is the inclusion of a backyard fire pit. Here's why:
Outdoor fire pits provide year-round enjoyment. A fire pit adds warmth and a cozy ambiance to your outdoor space in the cooler winter months. During Florida's warm summer nights, the soft glow of a fire pit adds a mesmerizing, enchanting atmosphere to your backyard, making it a perfect place for gatherings with friends and family.
Fire pits also serve as a beautiful focal point for your outdoor area. Whether your style leans towards rustic or contemporary, a fire pit adds a visual appeal that enhances the overall aesthetic of your patio design. Moreover, a well-placed fire pit increases the value of your home, serving as an attractive feature to potential buyers.
Were These Reasons to Get a Fire Pit Awesome?! Call Coconut Grove to Get Yours!!!
Ready to add a fire pit to your backyard oasis? Look no further than Coconut Grove Landscape & Design. As the #1 Custom Landscape Design Installation contractor in Jacksonville Beach & Ponte Vedra Beach, FL, we bring unrivaled expertise and craftsmanship to every project. Our team of professionals specializes in creating unique, high-quality fire pit designs that reflect your personality and lifestyle. 
Transform your backyard into an enchanting retreat with our best fire pit solutions. Contact us today to learn more about our services and to start designing your perfect outdoor space. Let's set your backyard ablaze with style, warmth, and comfort.